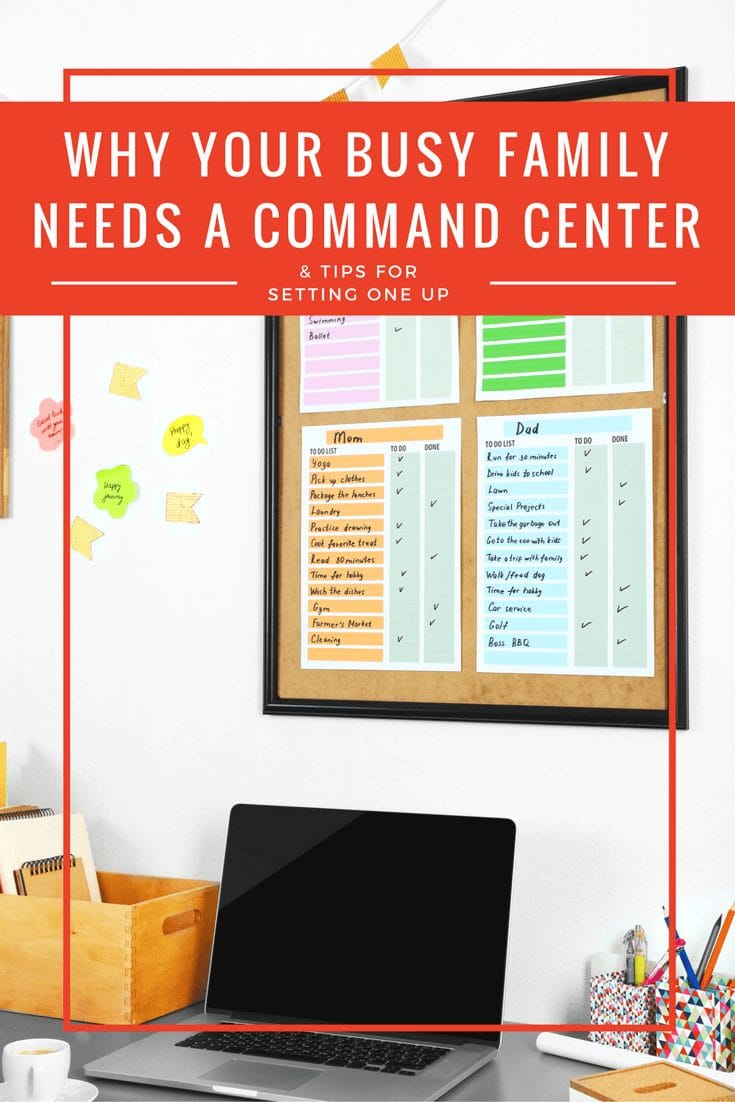 Getting organized is a family affair. Everyone has to work together to keep things tidy and to make the hustle of busy family life run smoothly. Creating a family command center is a very important step in getting your house, and everyone that lives in it, organized!
Family Command Center Organization
Do you find yourself drowning in perpetual piles of mail, bills and school paperwork? It's easy to do–it just seems like there is SO MUCH of it that comes into the house every day. That's why setting up a functional command center for your home is so important when it comes to your overall organization. Trust me, we implemented one several years ago, and while it definitely needs some tweaking, it has saved our sanity.
The process of sorting our mail, keeping track of bills and sorting receipts is quick and easy, and it's all because of our command center.  And now that we have school-aged kids, it helps tremendously in keeping track of everyone's schedules.  We never have to frantically search for permission slips or other important documents that need to be returned to school because we have a system in place and those documents always go in the same place.  Setting up a family command can be done in less than an hour and it will save you HOURS of time each month.  This post may contain some affiliate links for your convenience.  Click here to read my full disclosure policy.
Family Command Center To Do List:
– Find the perfect location: If you don't find the correct location for your family command center, it won't be effective. Place it in a zone of your house that everyone passes through, especially after retrieving the mail or arriving home from work/school. For our family, our command center is located in our kitchen, right beside the entry from our garage because that is the way we enter the house 95% of the time. While it doesn't work in our house, it makes sense for a lot of people to put it close to their entryway or "dump zone." (Click here to read tips on organizing your entryway.)
– Set the command center rules: If you don't set rules for your family command center, it will soon become a dumping ground for junk mail and other things you don't need. Don't let that happen! We use ours to store "to dos," such as bills that need to be paid, receipts that need to be shredded or scanned, keys, our dog leash, and coupons to use.
– Invest in a shredder: Seriously, y'all need a shredder if you don't already have one. They don't have to be fancy or expensive, but they are so necessary for keeping paper clutter to a minimum. If your family command center has some shelf space, consider a compact model, like these. If not, you can buy one similar to ours, which is about the size of a trash can (like these shredders). Whenever we receive credit card applications, they get shredded, as do our receipts after we scan those that we need to keep (you can read about how we scan and digitally organize our receipts and other documents here)!
– Make it pretty: Yep! That's right. Your family command center shouldn't just be functional. If you don't find it pretty and pleasant to use, you probably won't! So be sure to find a system that is functional and that you like to look at. We purchased this organizing system from Pottery Barn about 9 years ago and have never regretted it. It's absolute perfection and I love that it's modular, so you can add to it or change it up as your needs change. I also think these Urbio wall organizers from The Container Store are pretty ingenious.
– Deal with the paper in your command center regularly: You can either block 15 minutes per day or set aside a longer chunk of time once a week (we prefer the latter). If you chose to deal with it one day per week, pick a day and stick with it. I find that Sunday's work well for us because it helps me get things sorted and organized for the coming week.
– Make sure to include a calendar and/or whiteboard: This is one of the tweaks that we need to make to our command center. When we purchased ours, we did not yet have kids and schedules constantly flying around in our heads. Now, even though we keep electronic calendars, we need a visual calendar in the hub of our house so that we can see our monthly schedule at a glance. You could also include a whiteboard to write down groceries that you need if your command center is located in your kitchen, though we prefer to use Evernote to keep track of our lists (you can read all about how to go paperless and the system that we use here).
You can shop some of my favorite command center and wall organization options below.

Now take a few minutes to evaluate how a family command center would improve your life and decide on what features it needs. Then don't delay in ordering one or DIYing one yourself!