Cool wall art can be affordable! Check out these cool wall art options that are easy on your wallet.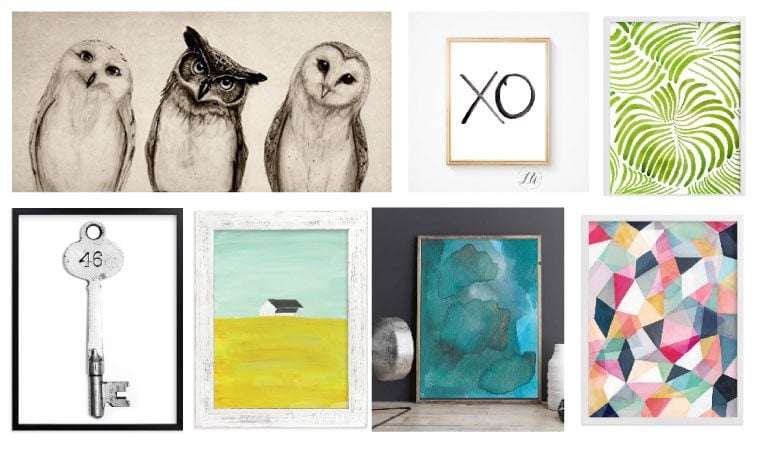 Do you have a bunch of blank walls in your house that you need to fill with cool wall art, but don't want to spend a fortune? Or maybe you just have no idea where to find cool wall art? Well, I have you covered!  I have three favorite sources for affordable art: my own graphic designs (you can see my printable art shop here), Minted, Etsy and Amazon. Seriously, all three sources have some incredible options and I have hand-picked some of my very favorites for you. Many of the ones you see below are hanging in my own home :)
This post contains some affiliate links for your shopping convenience. Click here to read my full disclosure policy.
Cool Wall Art That's Affordable
My Printable Art Shop: Even affordable art can add up, so I started designing my own prints a while back. I've received so many questions about where to buy them, that I finally launched my own printable art shop! It's a crazy affordable way to get the look of high-end art. You can click here to see my entire inventory, or you can check out my most popular prints below.

Minted: Y'all, Minted has endless cool wall art. Best of all, Minted connects you with the best independent artists to bring you endlessly fresh, truly unique art that you won't find anywhere else. I have several Minted prints throughout my house. The framing options are expensive, but the prints themselves are very affordable, especially for the quality of the paper the prints are on. Minted is at the top of my list when I am searching for affordable art. You can see some of my favorite options below.

Etsy: Etsy is another great place to find cool wall art options that are created by independent artists. The quality of the paper they are printed on varies from shop to shop, but the maps in our family room all came from Etsy and we couldn't be happier with the quality.

Amazon: As much as I prefer to purchase cool wall art from independent artists, Amazon really does have some great affordable art options that can't be ignored. So if you don't find anything at Minted or Etsy that tickle your fancy, give Amazon a try.

Do you have any favorites? I can tell you that a bunch of the prints you see in this post will be going in our master bedroom in the near future. You'll have to wait to see which ones we chose :)