Ooops, I forgot to share part 2 of my Christmas home tour last week as promised.  Sorry about that!  But better late than never, right?!
Before I move into the Christmas tour, I just want to take a moment to say THANK YOU for being the best readers ever.  This has been such a great year for me and for my blog and I owe it all to you.  So THANK YOU and Merry Christmas!!!!!  I am so grateful for you.
Now, on with the tour.  I am going to reshare some of the same photos I shared in Part 1 of my tour so you don't have to click over to another post in case you missed it :)  This post contains some affiliate links for your convenience.  Click here to read my full disclosure policy.
First, let's take a look at our front entry.  We still need more outdoor decorations and plan to add to our collection each year, but this year I was super excited to find those gorgeous topiaries at Home Decorators Collection®.  They are so, so pretty and are pre-lit with battery operated lights that have a timer function, which is AWESOME.  They come on automatically every night and we didn't have to worry about running an ugly extension cord to plug them in.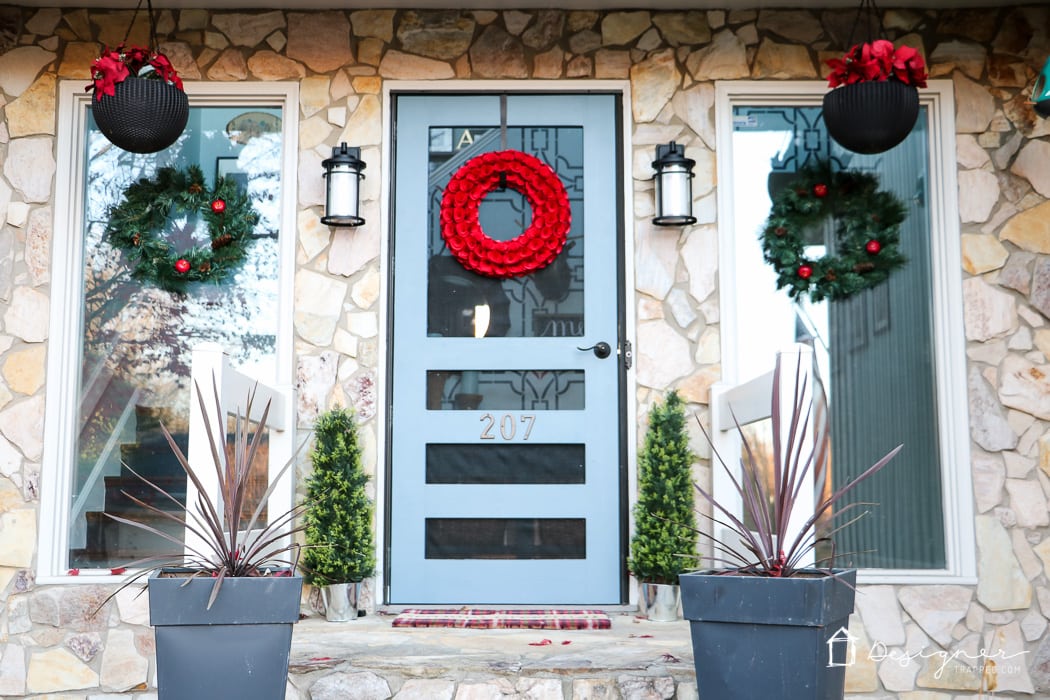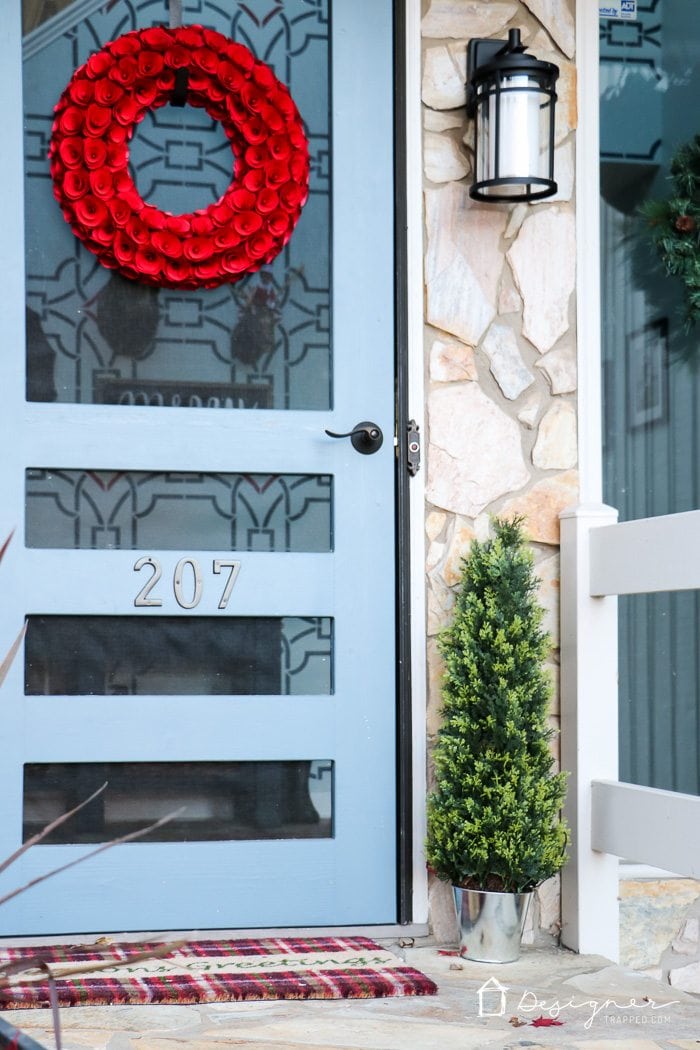 The foyer sets the stage for the rest of our Christmas home :)  We added my favorite Christmas sign my talented friend LZ made (you can check out this sign and her shop here) and the two wood reindeer heads I scored this year.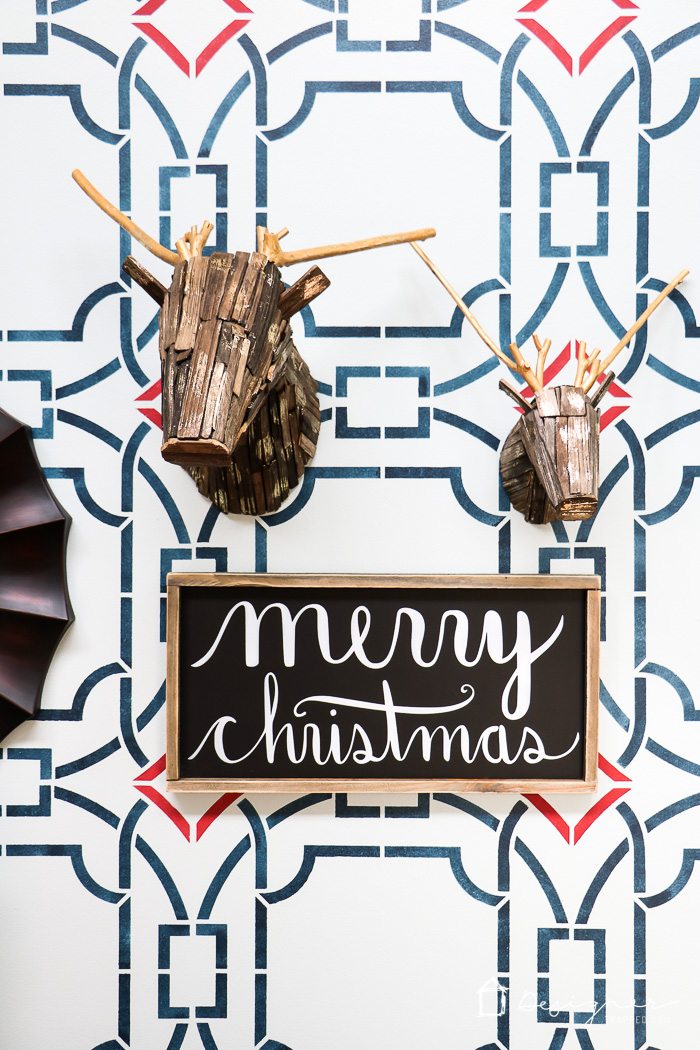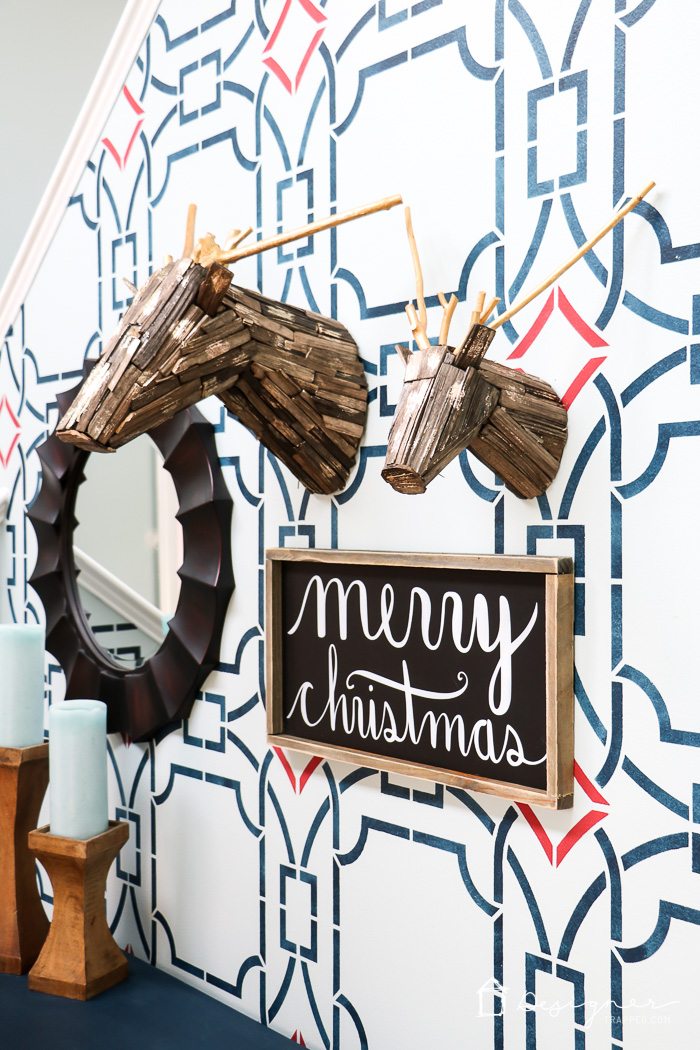 Moving into the living room, we added some festive Christmas prints to our wall.  I made the digital prints myself and had them printed at Office Depot for $3.00 each.  Such a great impact for a tiny price. You can download those awesome art prints FOR FREE by subscribing to my weekly newsletter–find all the details in this post.  You can also see little touches like my DIY Christmas pillows from placemats and the blue velvet reindeer pillow and red plaid blanket in here.  Those little touches go a long way in making this room feel full of Christmas.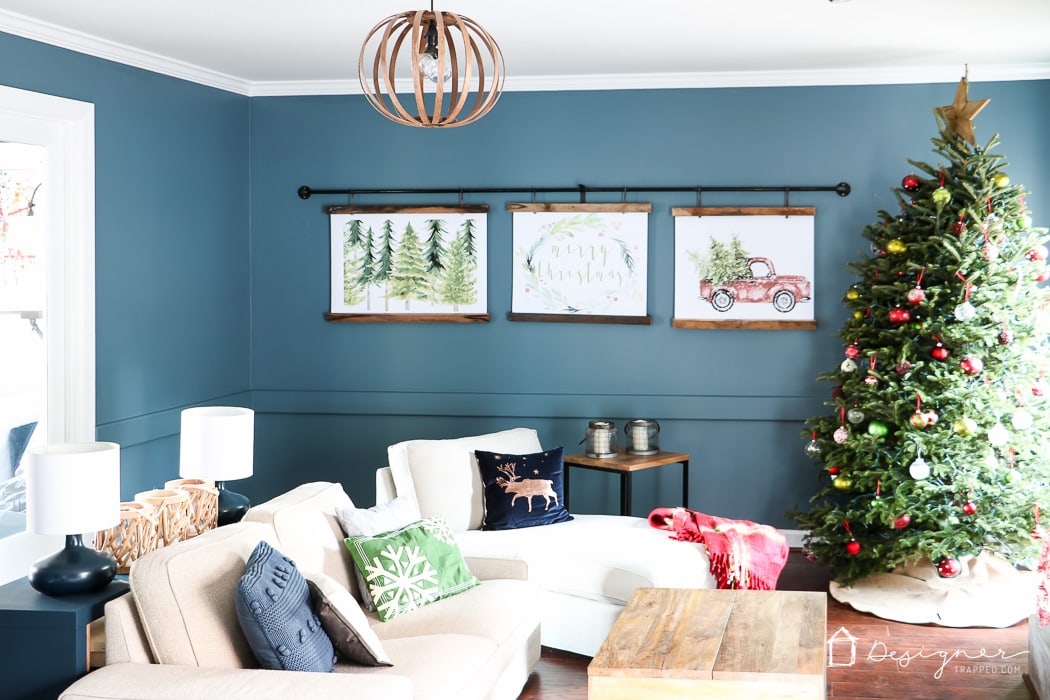 And I'm pretty in love with our simple, burlap Christmas tree skirt.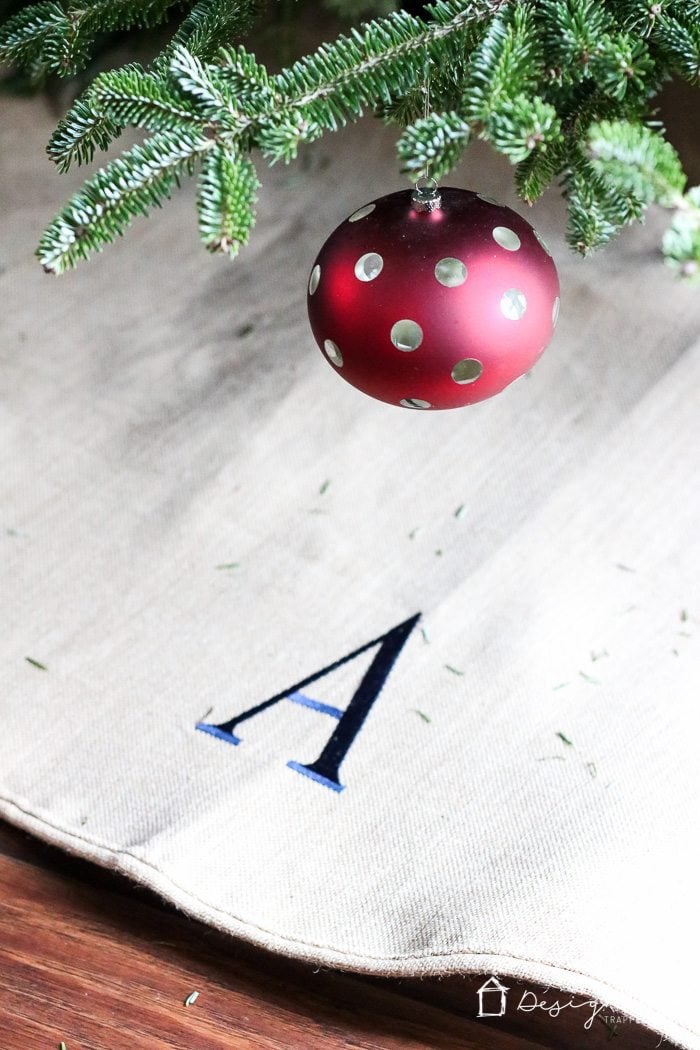 And since we added a mantel to our fireplace this year, I was super excited to hang our stockings from it!  Love how they look with our super fun DIY sliding fireplace screen in the background (I could stare at that thing all day).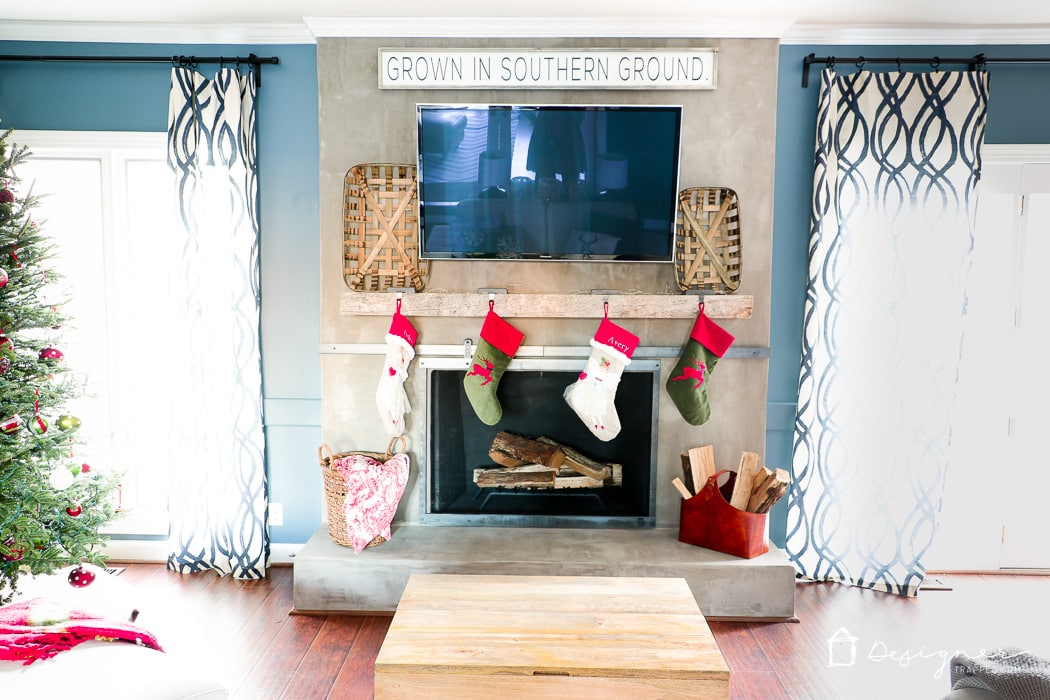 Now, let's head into the kitchen, where it feels like we spend 90% of our family time these days between homework and meals.  I made a fun DIY Christmas countdown calendar and added a new ornament tree with the cutest 12 days of Christmas ornaments to the area across from our eat-in-kitchen area.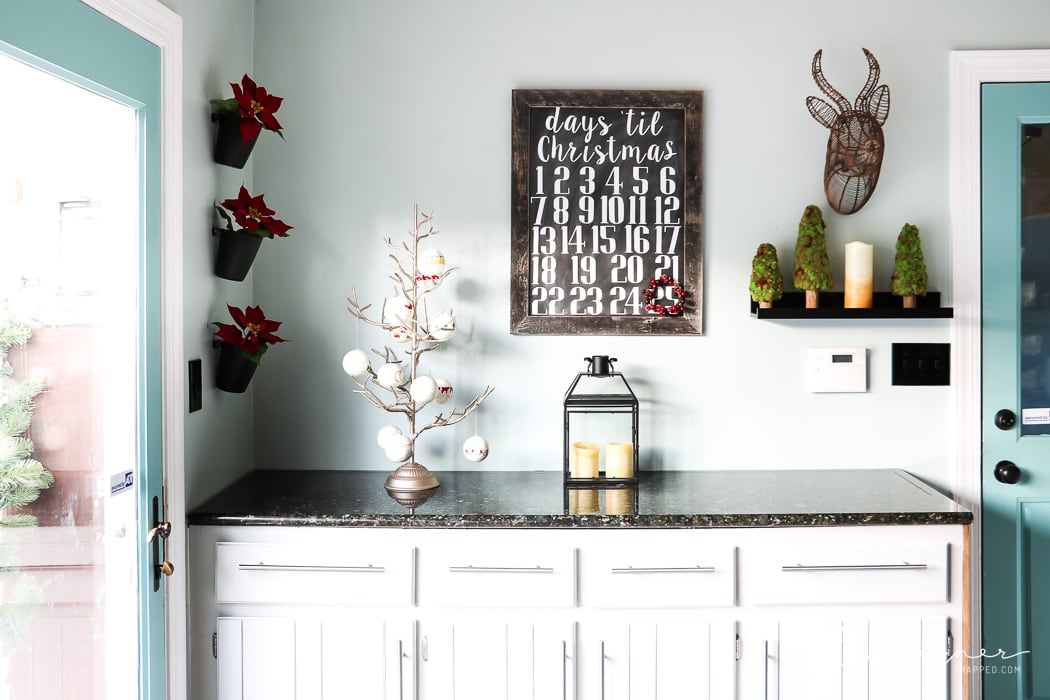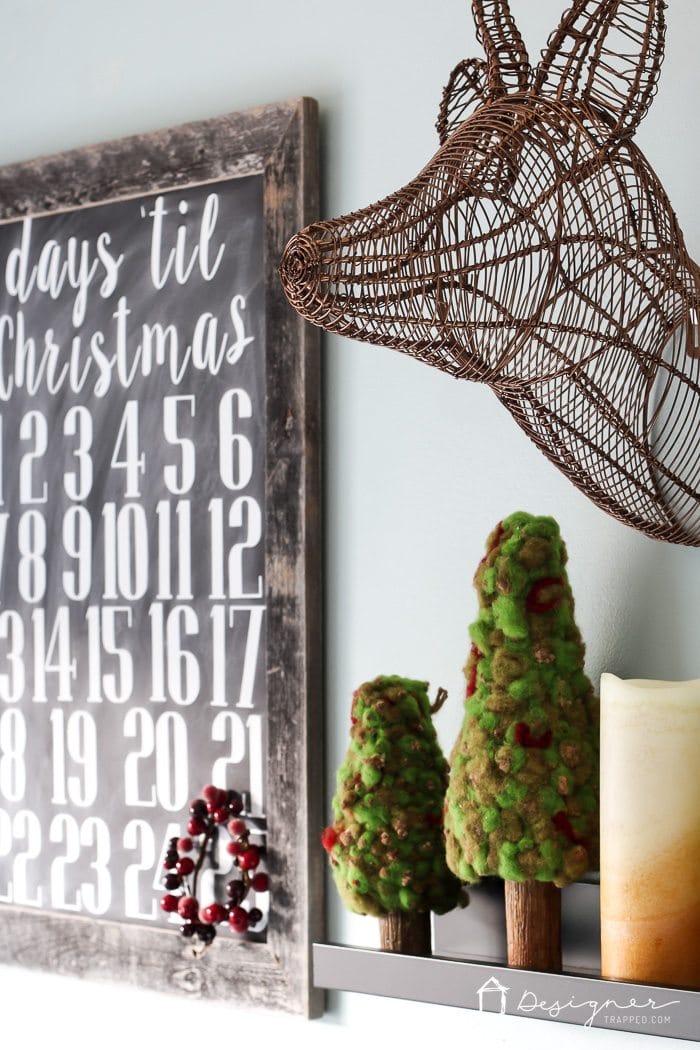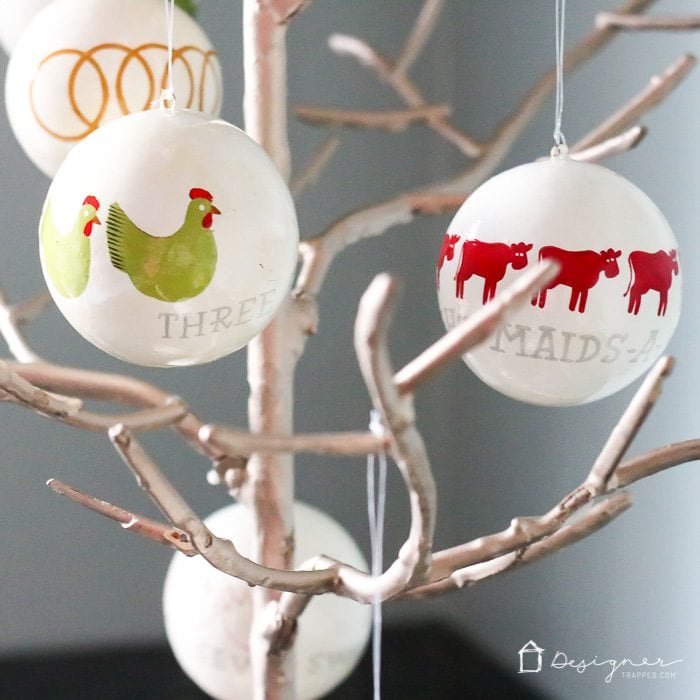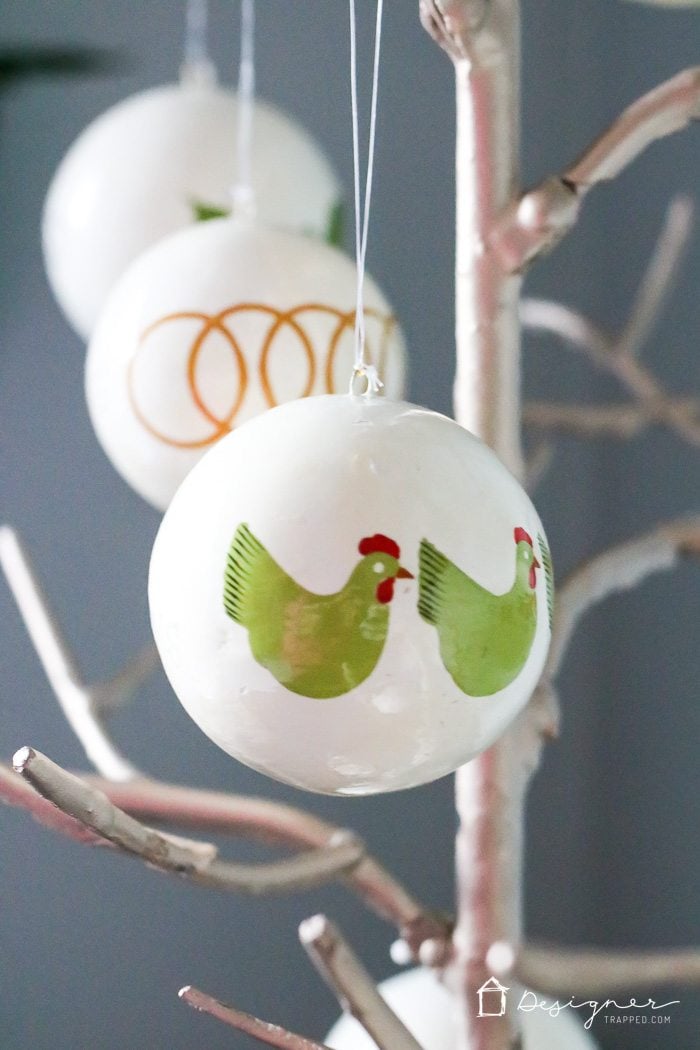 And of course, my beloved plaid stag is hanging in our eat-in-kitchen area, complete with a red scarf :)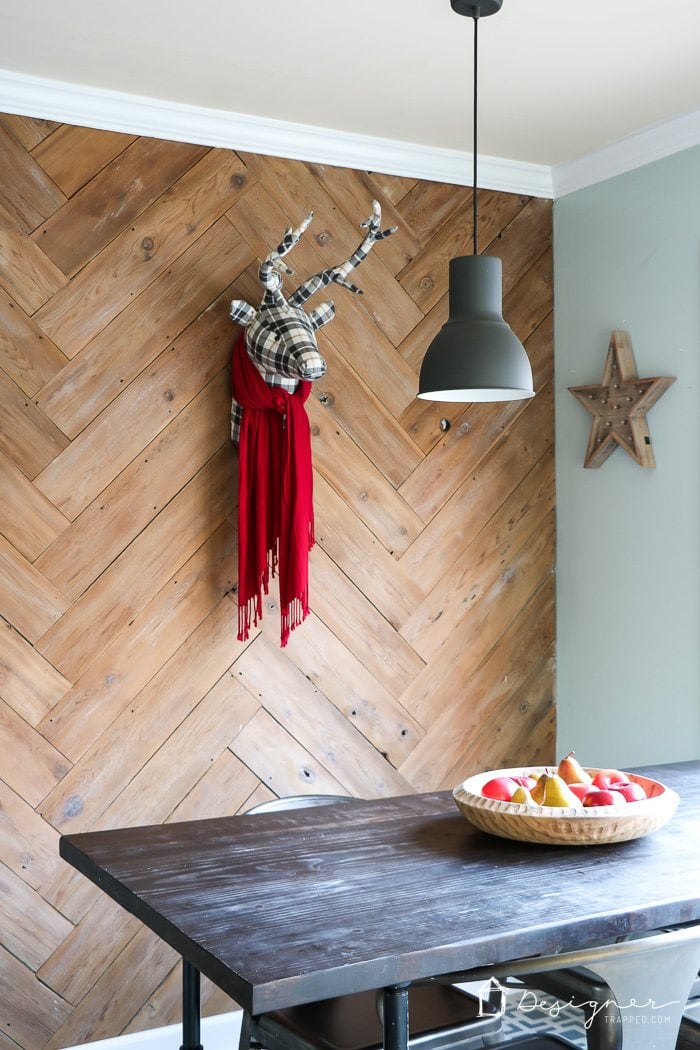 Next, let's take a peek at our dining room.  This is the first year we added a tree to our dining room and I'm in love with it!  I wanted to keep the decorations on this tree really, really simple, so I just draped some ball garlands from the top of the tree.  Love the simplicity of it!  And these jute rope garlands are my FAVORITE.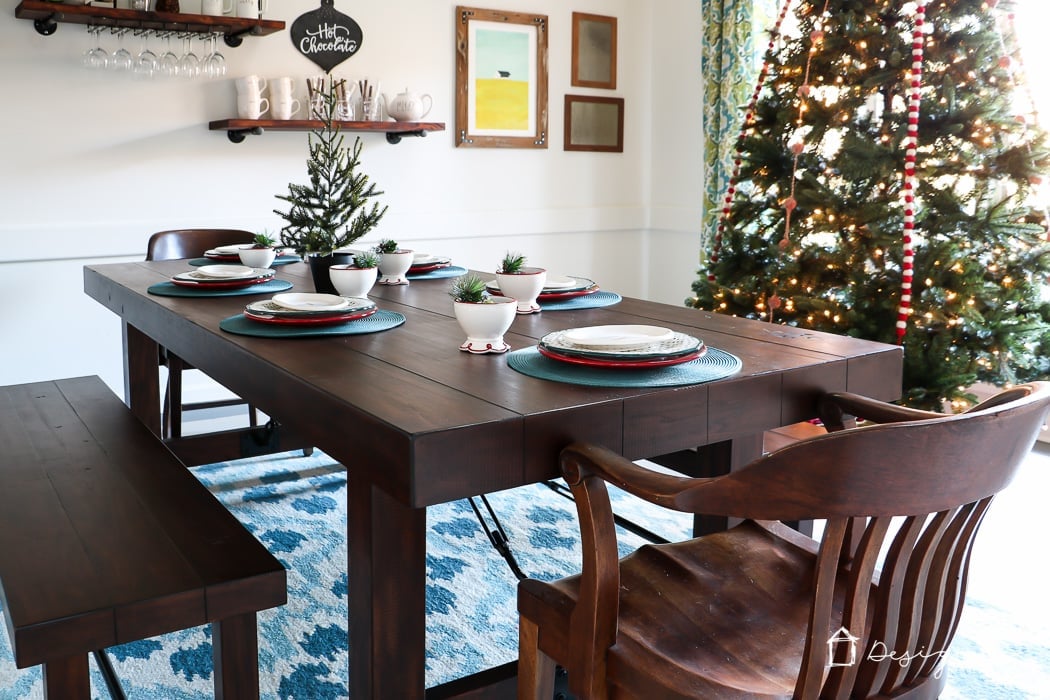 I also scored some new Rae Dunn mugs for our hot chocolate bar that go perfectly with my TREASURED Rae Dunn tea pot that I purchased a few years back :)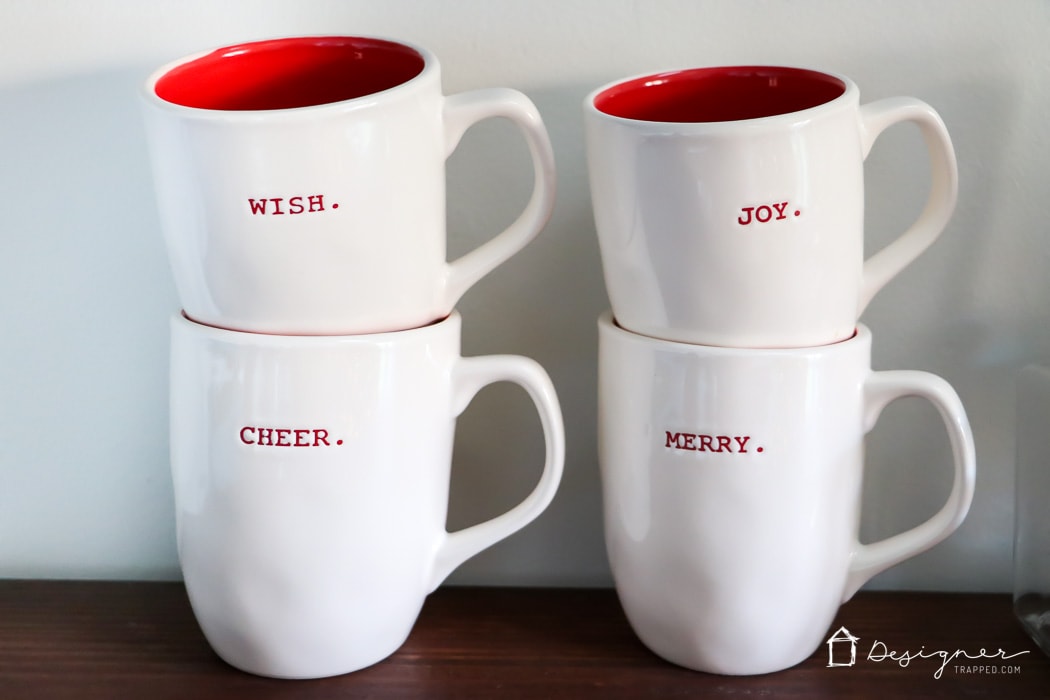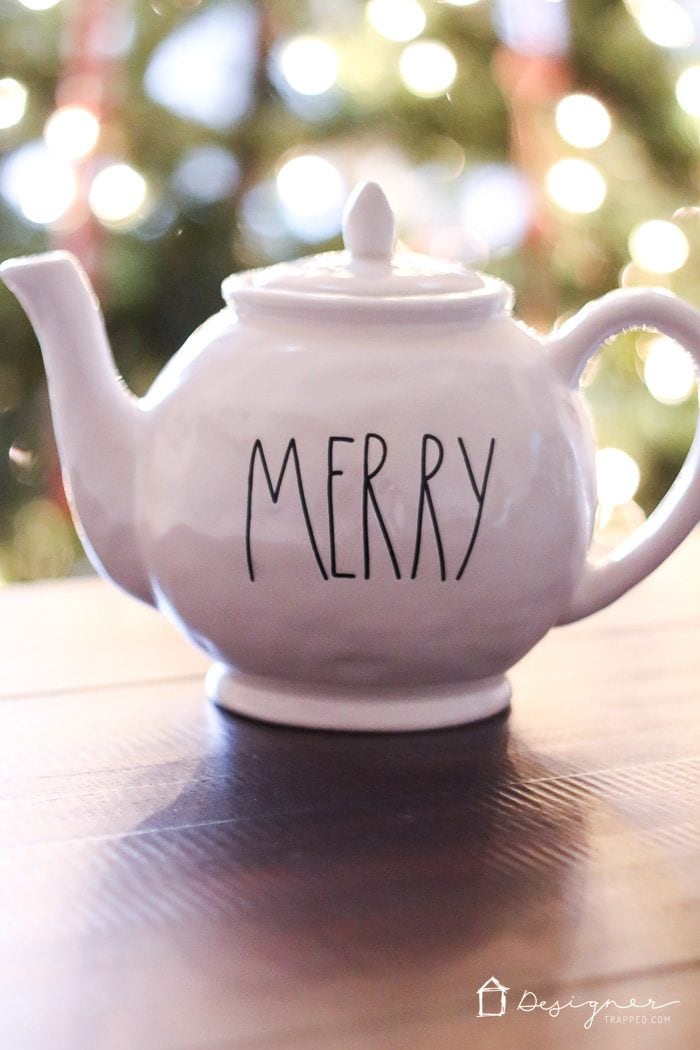 The adorable dishes on the table we have had for years (a lovely gift from my friend Margaux), although I did add those teal, polka dotted dishes that I found at Wal-Mart (not kidding) this year and I love them!  I also found those adorable Rae Dunn salad plates at the same time I found the mugs (it was a GREAT day at Homegoods for me).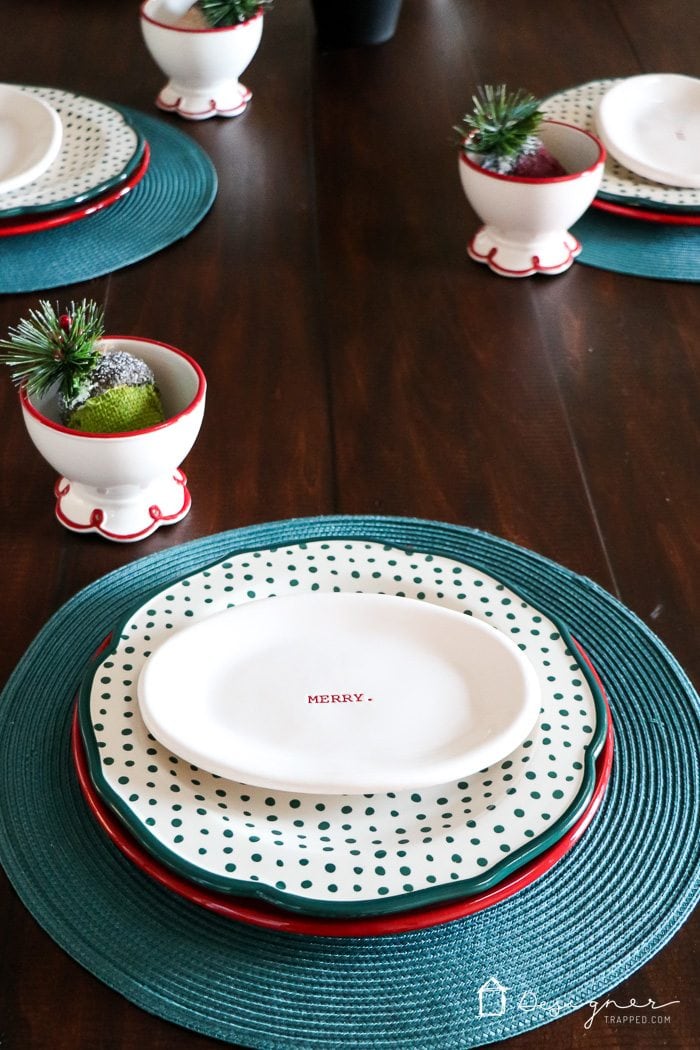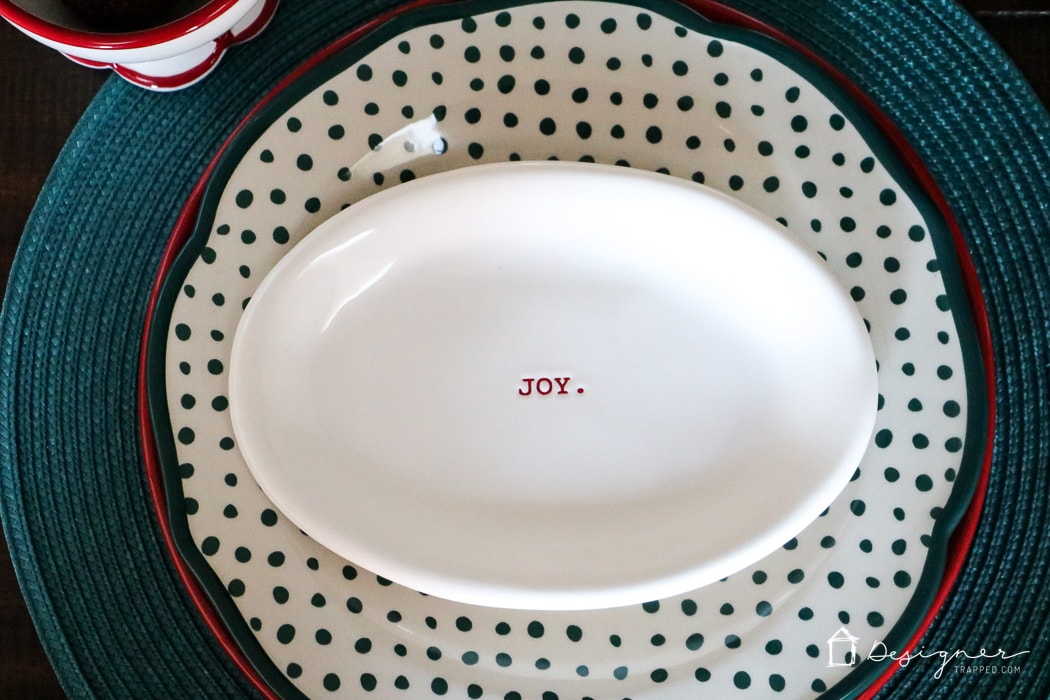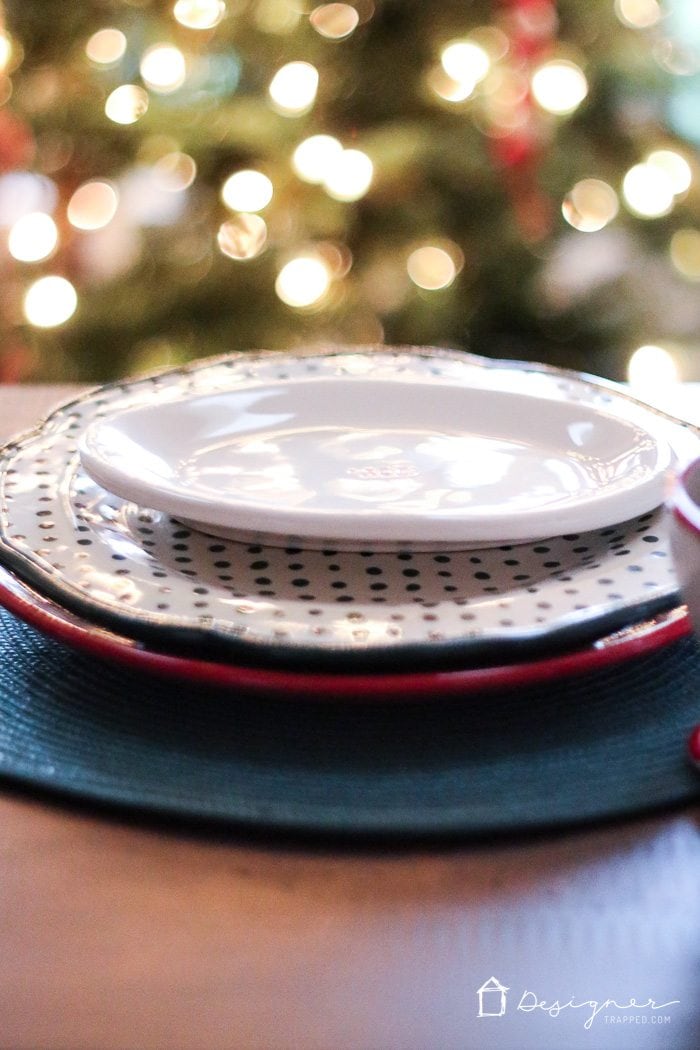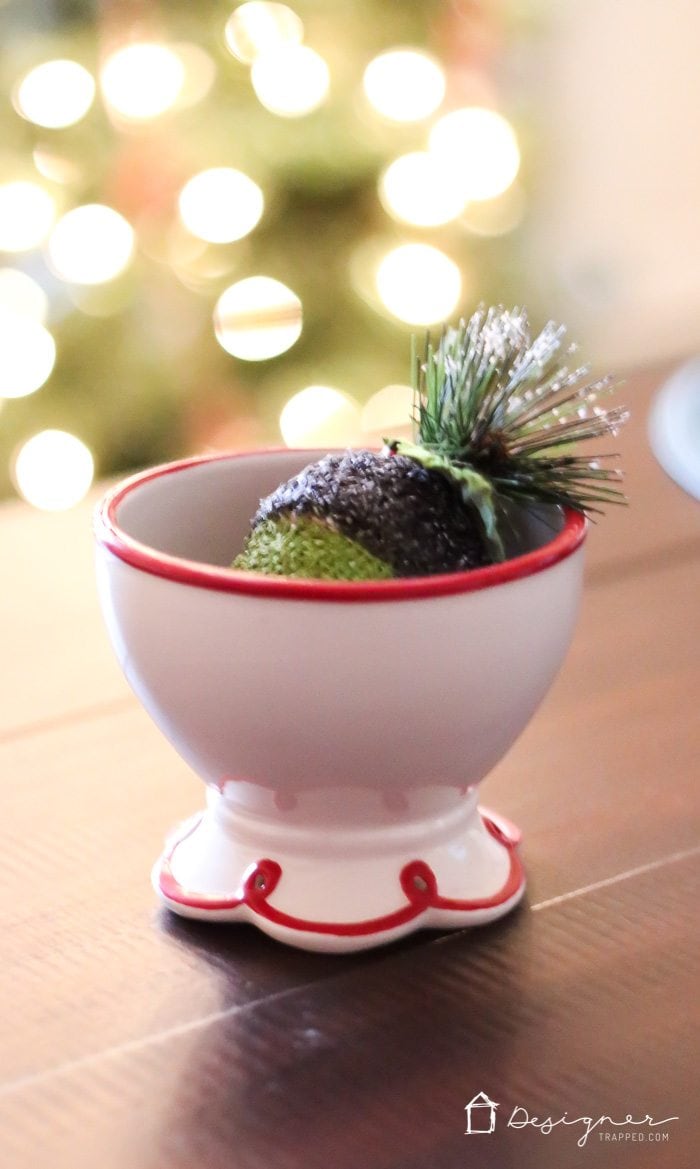 Now, let's head upstairs, where you'll find just a TINY bit of Christmas decor.  First, this beautiful wood carving of the Holy family is the perfect touch to our stairway gallery wall.  I still haven't found a nativity scene that I love, but still feel like it's important to remember the meaning of Christmas and the gift of Jesus, so I love seeing this every time I walk up and down our stairs (which feels approximately 100 times per day).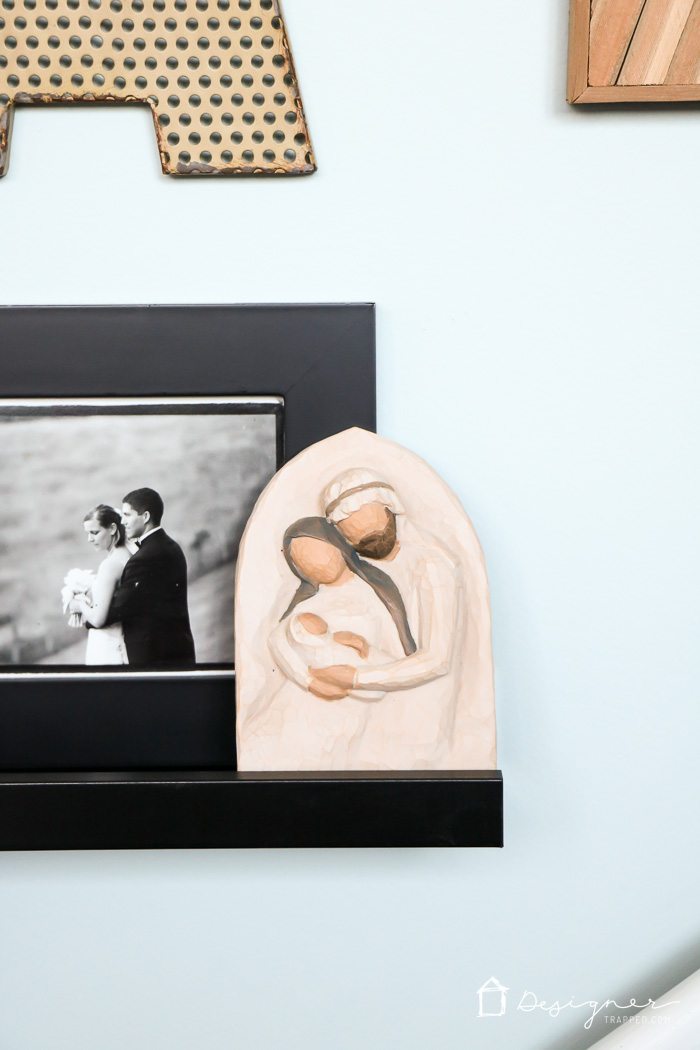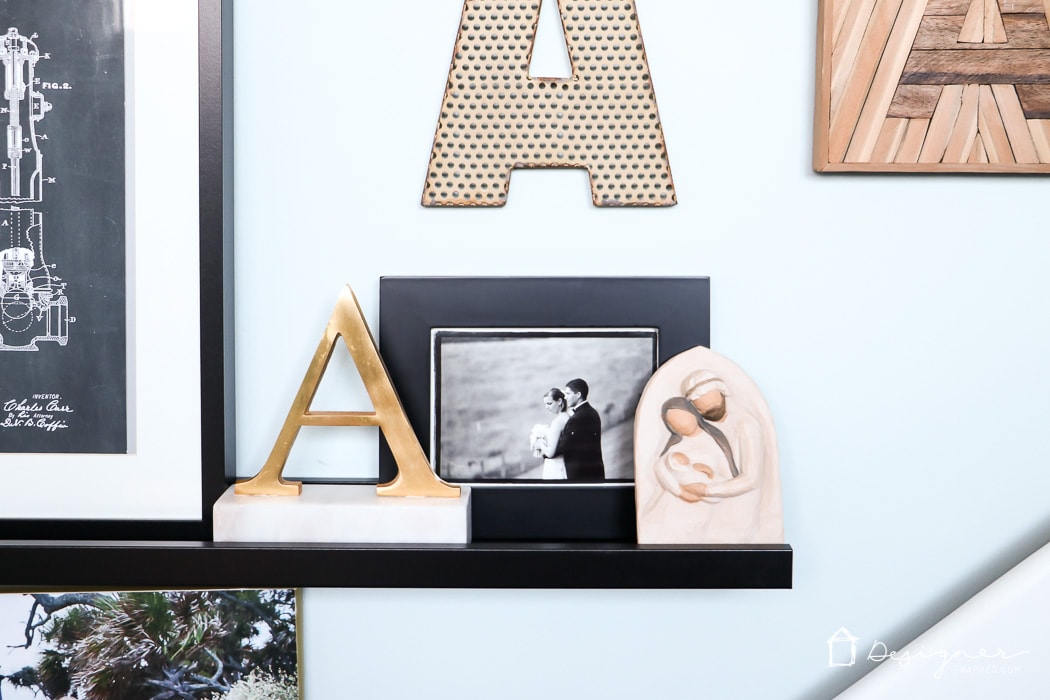 The last bit of Christmas decor in our home is in our sweet twin girls' bedroom.  I keep a wreath on their door year round, and change it out seasonally.  May seem silly, but they love it.  I also added a strand of colored mini light bulbs above their beds which they ADORE.  They call their room "fairy land" when the lights are plugged in.  So sweet.  Oh, and small point of pride here…  My girls make their own beds in the mornings and I restrained myself from changing them at all to make them "picture perfect" before shooting these photos.  For being only 5, they do a great job and take a lot of pride in making their beds :)  Sweet girls.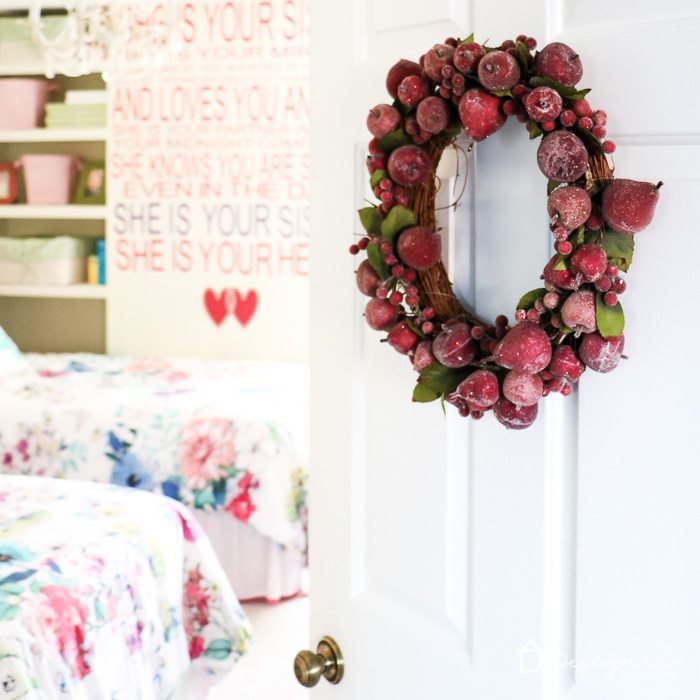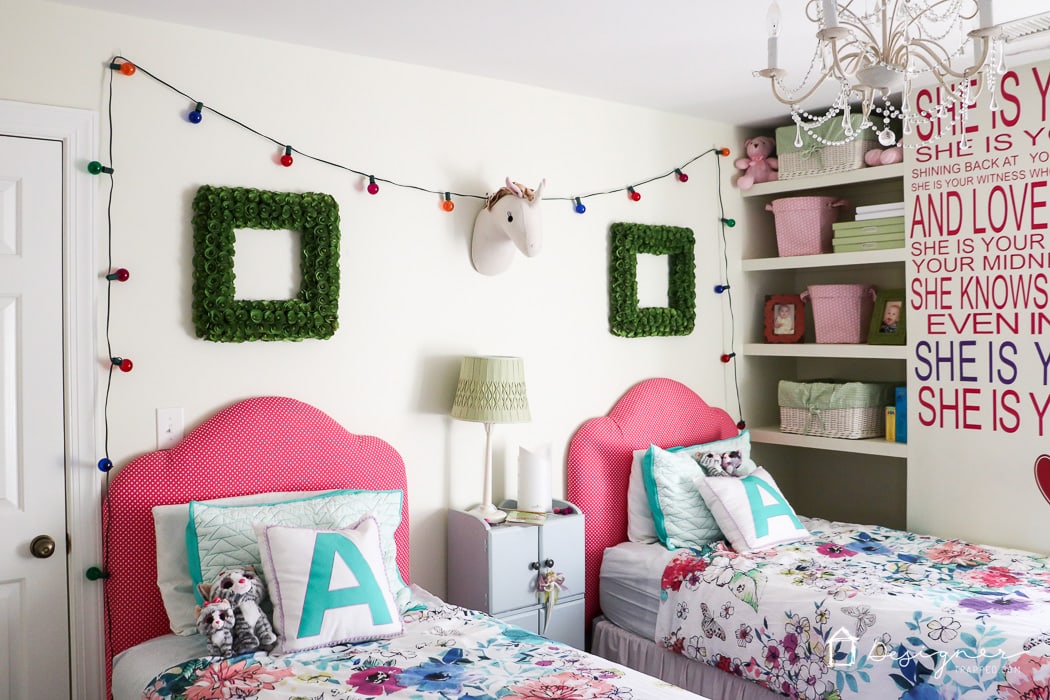 So that's it!  I am already dreading taking our Christmas decorations down because I love it all so much.  It makes everything feel magical and cozy.
You won't hear from me again before Christmas, so please, go have a magical and blessed Christmas with your families!  I'll be back after Christmas with a SUPER cool tutorial for you, so stay tuned :)